In the six weeks since I metaphorically climbed out the bathroom window at my wedding, and especially in the two weeks since I burst into Central Perk and told you all about it, I've been thinking a lot about what I'm going to do next. Since the future I imagined isn't going to happen, I've been trying to imagine new futures.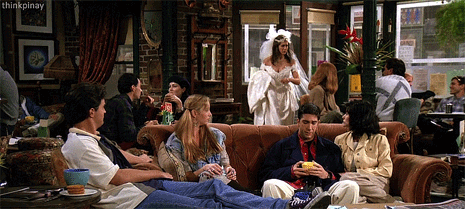 But I haven't stretched the "what do you want to be when you grow up" muscle in a long time because I knew what I wanted to be. Now it seems I'm all grown up and more in need of that muscle than ever. And so, a list of jobs I am currently imagining for myself.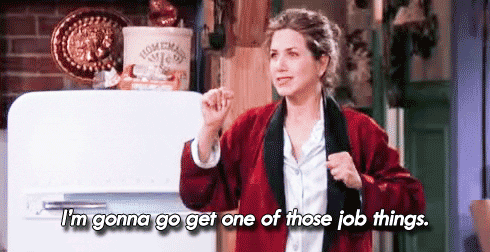 Job: I could be  the general manager of a baseball team.
Pros: I like sports.
Cons: That can be hard to get.
Job: I could work in publishing in some fashion. Maybe something editorial?
Pros: I am quite good at taking people's scholarship, seeing what's good and what could be better, and helping them get there. TBH my favorite academic task was giving comment on a panel, and I was really good at it, so maybe I can just write the introductions to edited collections.
Cons: There are a lot of other people who have done a lot more work and preparation for this kind of career. It sounds presumptuous to even suggest it for myself.
Job: I could be an announcer, like a color man.
Pros: I always make those interesting comments during the games.
Cons: They tend to give those jobs to ex-ballplayers and people that are, you know, in broadcasting. (That's really not fair.)
Job: I could create a concordance for the Sedgwick papers at the Massachusetts Historical Society.
Pros: I'd wager I know those papers – and those people – better than almost anybody. They're chock-a-block full of interesting commentary on so many aspects of 18th, 19th, and 20th century US history and you'd never be able to find it without a concordance or index or something.
Cons: This is not a job that exists.
Job: I could be a poet.
Pros: If I were a poet, I would write a sonnet. It would say "I love you." Your name would be on it.
Cons: Did you guess my secret? I am not a poet. Couldn't write a sonnet, and I think you know it.
Job: I could edit, annotate, and publish primary sources, either physically or online.
Pros: I'd love to do anything that helped teachers at all levels have a wider variety of source material to use. Also, having worked extensively with a student who uses a screen reader, I would want to emphasize transcription over, or at least alongside, straight digitization of page images.
Cons: I don't really think this is a job unless you're also charging for access to the materials, and while I know that this labor is valuable, and that the maintenance of digital source collections costs money, I am also committed to open educational resources. I suppose it could be a job at some well-funded private and government archives and universities.
Job: I could open a small movie theater that only shows classic/second-run films and B-movies
Pros: I am already a night owl, so the hours wouldn't bother me. It would provide me a great excuse for being out of touch with current movies. Also, inspired by the little theater I grew up with, I would sell coffee and tea and cookies, but the cookies would be themed, and specific to the films running at the time.
Cons: I am not independently wealthy and no one would give me a loan for this (nor should they). With the income history of a graduate student, I could barely get a car loan a few years ago.
Job: I can be your hero, baby.
Pros: I can kiss away your pain; I will stand by you forever.
Cons: Am I in too deep? Have I lost my mind?
Job: I could start an independent bookstore, new and/or used.
Pros: I have worked at two libraries, an archive, a rare bookstore, and The Strand. While I grew up in a place with quite a few independent bookstores, this part of Connecticut desperately needs one.
Cons: See my movie theater idea above. Also my friend Liz has had this dream longer than I have and she'd be much better at it, so if anyone does have some capital, she'd be the one to talk to.
Job: I could be a talk show host.
Pros: I talk to people all the time!
Cons: How do you get that, though? Where do you start? You can't just walk into a building and say "I wanna be a talk show host."
Job: I could finish my monograph and publish it as a paid subscription-only serial TinyLetter.
Pros: I could use GIFs. I could also make each chapter title start with "In which our heroine…"
Cons: Publishing my monograph wasn't really the big hurdle for me. Also this is not a job because only five people would subscribe to it and I already know who they are. And I think TinyLetter is being shuttered anyway.
Job: I could do policy research.
Pros: I am good at examining a situation or problem, framing appropriate research questions, carrying out that research, refining the questions as I go, and producing analysis at the end. I also really want my work to mean something, especially at this moment, and this seems like a way I could do something meaningful.
Cons: I know I have the skills for this kind of work if it were focused in particular areas, but I'm not sure how to convince employers of this, especially when they explicitly ask for a public policy degree. I'm not saying a degree like that is unimportant, but that I think my degree is relevant in ways that are not often apparent. Also lots of people seem to think academics are incapable of working to deadlines, when in fact firm deadlines set by other people or institutions are what many of us crave. I suppose for all we hear about alt-ac and skills, I've heard plenty about how difficult it is for ex-academics to get these kinds of jobs. Lots of people have ideas about what academics are like, and many of them aren't true, but how do you even get a chance to prove that?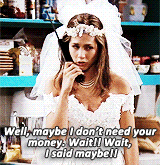 So, those are my imagined futures. In the long run, though, I know that I probably won't be able to have any of them, just like I couldn't have the one I trained for. In that sense, I'm very much in the same boat with lots of other workers. Don't think I don't know that.
Still, it seems useful to think about what I might do and what I could be good at. I haven't done that in years because I've been focused on being good at a job that I won't get to do now. When you're a kid, especially when you're a little girl in the 90s, they tell you that you can be anything you want to be. Clearly that's not true, but maybe it's still good to fantasize a little.
---
In case you don't know which of these were serious ideas and which were jokes: